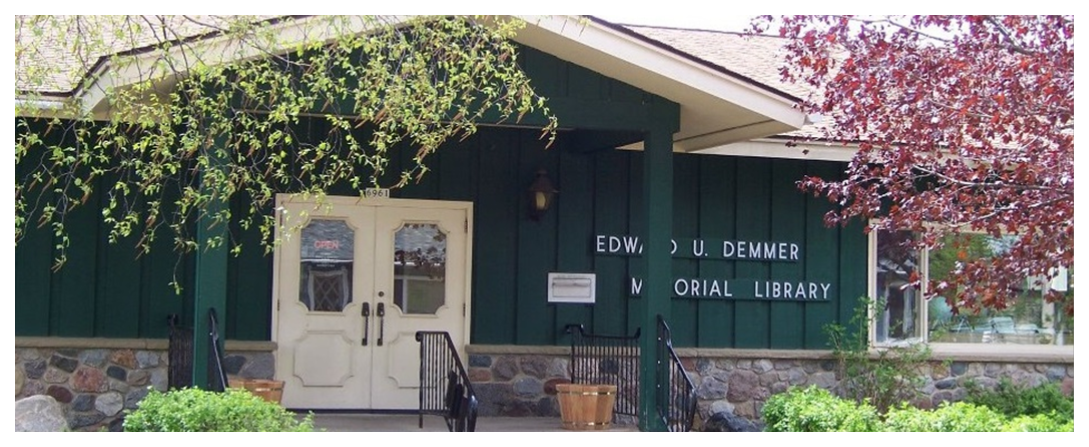 explore, learn, create, and share.

6961 W School St.
PO Box 760
Three Lakes, WI 54562
715-546-3391

Hours
Monday: 12 PM - 7 PM
Tuesday: 9 AM – 5 PM
Wednesday: 12 PM – 7 PM
Thursday: 9 AM – 5 PM
Friday: 12 PM - 5 PM
Saturday - Sunday: Closed

Starting Monday, August 23, face masks will be required for all over the age of two entering the building. For current library services and updates, visit https://demmerlibrary.org/current-services/ and https://www.facebook.com/demmerlibrary.org Thank you, The Board...
read more
On Sunday, August 22, the library in Three Lakes is celebrating its 50th anniversary of becoming the Edward U. Demmer Library. To honor the milestone, visitors can make their own button at the library during the following week and all are invited to an open house on...
read more
Books-the-Other-Channel Book Club
The "Books-the-Other-Channel" book discussion group meets the 4th Tuesday of each month in the library's lower level meeting room. Books are selected by members of the group and include both fiction and non-fiction titles.
New members are always welcome!
If you have any questions or want to join, please e-mail demmer@demmerlibrary.org or call the library at 715-546-3391 for more information.
Reading List for Oct 2020-Sept 2021
Past Titles: 2014-September 2020
Reading List for October 2019- September 2020
10/22/19 (Youth)  Spoon River Anthology by Edgar Lee Masters
11/26/19 (Romance) The Keeper of Lost Things by Ruth Hogan
12/17/19 (Mystery) Never Have I Ever by Joshilyn Jackson
01/28/20 (Regional) Virgil Wander by Leif Enger
02/25/20 (Classic) Beloved by Toni Morrison
03/24/20 (Non Fiction) The Spy and the Traitor  by Ben Macintyre
04/28/20 (Historical Fiction) Island of the Sea Woman  by Lisa See
05/26/20 (Just Because) Where the Crawdads Sing by Delia Owens
06/23/20 (Humor) Bossy Pants by Tina Fey
07/28/20 (Inspiration) Paddle for a Purpose  by Barb Geiger
08/25/20 (Fiction) We Are All Completely Beside Ourselves  by Karen Joy Fowler
09/22/20 (Memoir/Biography) The Grateful American  by Gary Sinese
Reading List for October 2018- September 2019
On the dates listed, meetings begins at 6:30 PM and are being held at Fika Bakery, Superior Street until further notice.
10/23/18 (Classic)  Frankenstein by Mary Shelley
11/20/18 (Inspiration) Gift from the Sea by Anne Morrow Lindbergh
12/18/18 (Adventure) Call of the Wild by Jack London
01/22/19 (Historical Fiction) The Alice Network by Kate Quinn
02/26/19 (Fiction) Lincoln in the Barbo by George Saunders
03/26/19 (Biography) The Long Haul by Finn Murphy
04/23/19 (Non Fiction) Killers of the Flower Moon by David Grann
05/28/19 (Romance) Nicholas and Alexandra by Robert Massie
06/25/19 (Regional) Our Living Ancestors by John Bates
07/23/19 (Humor) Insomniac Dreams by Mark Gaedtke
08/27/19 (Young Adult) Strong for Potatoes by Cynthia Thayer
09/24/19 (Mystery/Thriller)The Woman in the Window  by A.J. Finn
Reading List for October 2017-September 2018
On the dates listed, meetings begin at 6:30 p.m. in the lower level of the Demmer Library:
10/24/17 (Adventure) Thousand-Miler Adventures on the Ice Age Trail by Melanie R. McManus
11/28/17 (Historical Fiction) Snow Flower and the Secret Fan by Lisa See
12/19/17 (Regional) Thunder Lake Narrow Gage: The Story of Vada Williams by Harvey Huston & Gary Williams
1/23/18 (Humor) The Inimitable Jeeves by PG Wodehouse
2/27/18 (Fiction) Lilac Girls by Martha Hall Kelly
3/27/18 (Inspirational) On Living by Kerry Egan
4/24/18 (Classic) My Antonia by Willa Cather
5/22/18 (Romance) Miss You by Kate Eberlen
6/26/18 (Thriller/Mystery) Watch Me Disappear by Janelle Brown
7/24/18 (Non-Fiction) Between the World and Me by Ta-Nehisi Coates
8/28/18 (Memoir/Biography) Hillbilly Elegy by J D Vance
9/25/18 (Youth) Brighty of the Grand Canyon by Marguerite Henry
Reading List for October 2016-September 2017
On the dates listed, meetings begin at 6:30 p.m. in the lower level of the Demmer Library:
10/25/16 (Classic) Jane Eyre by Charlotte Bronte
11/15/16 (Regional) Return to Wake Robin by Marnie Mamminga
12/13/16 (Memoir/Biography) Rosemary:  The Hidden Kennedy Daughter by Kate Clifford Larson
1/24/17 (Non-Fiction) The Bridge at Andau: The Compelling True Story of a Brave, Embattled People by James Mitchner
2/28/17 (Adventure) Fearless: The Undaunted Courage and Ultimate Sacrifice of Navy SEAL Team Six Operator Adam Brown by Eric Blehm
3/28/17 (Historical Fiction) The Nightingale by Kristin Hannah
4/25/17 (Thriller/Mystery) Oxygen by Carol Cassella
5/23/17 (Youth) Flowers for Algernon by Daniel Keyes
6/27/17 (Fiction) The Invisible Bridge by Julie Orringer
7/25/17 (Inspirational) The Last Lecture by Randy Pausch
8/22/17 (Humor) The 100-Year-Old Man Who Climbed Out the Window and Disappeared by Jonas Jonasson
9/26/17 (Romance) Eleanore & Park by Rainbow Rowell
Reading List for Oct. 2014- Sept. 2015
On the dates listed, meetings begin at 6:30 p.m. in the lower level of the Demmer Library:
Ordinary Grace by William Kent Krueger – 10/28/14
If I Stay by Gayle Forman – 11/18/14
Orphan Train by Christina Baker Kline – 12/16/14
The Bohemian Flats by Mary Relindes Ellis – 1/27/15
Lolita by Vladimir Nabokov – 2/24/15
Flight Behavior by Barbara Kingsolver – 3/24/15
Blood Brothers:  The Dramatic Story of a Palestinian Christian Working for Peace in Israel by Elias Chacour, David Hazard & James Baker – 4/28/15
Thunderstruck by Erik Larson – 5/26/15
The Thorn Birds by Colleen McCullough – 6/23/15
The Divide by Matt Taibbi – 7/28/15
Shotgun Lovesongs by Nickolas Butler – 8/25/15
The Storied Life of A.J. Fikry by Gabrielle Zevin – 9/22/15
Reading List for Oct. 2013 – September 2014
On the dates listed, meetings begin at 6:30 p.m. in the lower level of the Demmer Library:
The Art of Hearing Heartbeats by Jan-Philipp Sendker – 10/22/13
The Metamorphosis by Franz Kafka – 11/19/13
Traveling Mercies:  Some Thoughts on Faith by Anne Lamott – 12/17/13
Tales of a Female Nomad:  Living at Large in the World by Rita Golden Gelman – 01/28/14
An Invisible Thread by Laura Schroff – 02/25/14
Gone Girl:  a novel by Gillian Flynn – 03/25/14
The Fault in our Stars by John Green – 04/22/14
The Light Between Oceans by M.L. Stedman – 05/27/14
Mrs.  Lincoln's Dressmaker by Jennifer Chiaverini – 06/24/14
Harold's Boys by Mark Gaedke – 07/22/14
Let's Pretend This Never Happened by Jenny Lawson – 08/26/14
Jewelweed:  a novel by David Rhodes – 09/23/14

Edward U. Demmer Memorial Library
6961 W School Street
PO Box 760
Three Lakes, WI 54562
Phone: 715-546-3391
Fax: 715-546-3914
| | |
| --- | --- |
| Monday | 12:00 pm – 7:00 pm |
| Tuesday | 9:00 am – 5:00 pm |
| Wednesday | 12:00 pm – 7:00 pm |
| Thursday | 9:00 am – 5:00 pm |
| Friday | 12:00 pm – 5:00 pm |