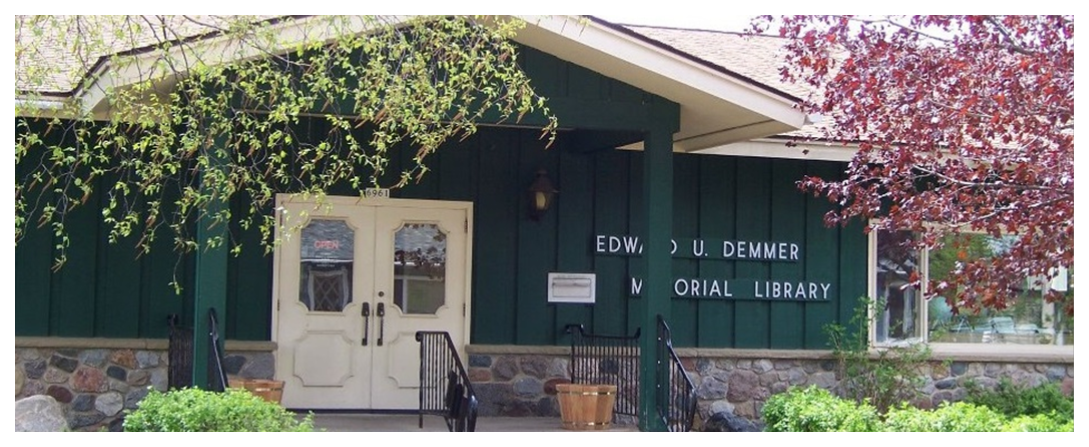 explore, learn, create, and share.

6961 W School St.
PO Box 760
Three Lakes, WI 54562
715-546-3391

Hours
Monday: 9 AM – 7 PM
Tuesday: 9 AM – 5 PM
Wednesday: 9 AM – 7 PM
Thursday: 9 AM – 5 PM
Friday: 9 AM – 5 PM
Saturday - Sunday: Closed
Memorial Gifts
A donation to the Demmer Library is a special way to honor friends and loved ones while also supporting your local community. You can use a donation to the library to celebrate and commemorate birthdays, anniversaries, the birth of a child, a retirement, or in remembrance of somebody special.
A bookplate identifying the donor and the person being honored will be added to items purchased.
Click here to read the full Memorial and Donation Brochure with some suggested giving levels.
And we thank you for your gift and support.

Edward U. Demmer Memorial Library
6961 W School Street
PO Box 760
Three Lakes, WI 54562
Phone: 715-546-3391
Fax: 715-546-3914
| | |
| --- | --- |
| Monday | 9:00 am – 7:00 pm |
| Tuesday | 9:00 am – 5:00 pm |
| Wednesday | 9:00 am – 7:00 pm |
| Thursday | 9:00 am – 5:00 pm |
| Friday | 9:00 am – 5:00 pm |